Being a coach is such a rewarding and inspiring profession, but what happens when the content you are creating is not seen? Using Pinterest to grow your coaching business is a strategic move in helping others change their lives and their businesses.
However, coaches are spending hours upon hours marketing their valuable, life-changing content manually on various social media platforms. At the sacrifice of building relationships with potential clients, they are spending valuable time sharing their latest blog posts on Facebook, Instagram, Twitter and LinkedIn instead of staying in their zone of genius.
What if you could use one platform that brings an audience to you?
Pinterest is the best social media platform to drive traffic to your website or blog. Since Pinterest is a search engine, people go to the platform in search of solutions to their problems and inspiration for a better life.
Want to be successful on Pinterest in 60 minutes or less?
Get the FREE Pinterest Success Checklist to get you
started on Pinterest here!

Potential clients search on Pinterest for ways to:
achieve health goals

overcoming money blocks

seeking ways to start a business or grow a business

tips on how to overcome limiting beliefs

Or any other solution to a specific problem
Pinterest is there to offer solutions (your content) to those in search of it without you having to do hours and hours of work.
Yet, some coaches are still uncertain the best methods to ensure they take advantage of this traffic generating platform.
Pinterest is the best social media platform to drive traffic to your website or blog.
Click To Tweet
Here are 7 tips to grow your coaching business with Pinterest:
1. Create a Business Profile
Having a Pinterest Business profile provides access to rich pins and analytics. Rich pins provide viewers with extra information on a direct pin increasing its engagement. As with other platforms, the analytics will show how many viewers are engaging with your content and shared content. This vital information helps you understand what people like, pin and share while viewing your account.
Don't have a Pinterest Business account? Access your step-by-step checklist to get you started on Pinterest!
2. Curate an Account for Your Ideal Client
Your Pinterest account is for and about your client – not you. Creating an account with information appealing to your ideal client will increase your chances of being followed on the platform. Every pin posted and shared within your account should be focused on the audience you want to serve.
3. Optimize your Pin
There are a few key things to check and update when pinning your image to Pinterest. First, you will want to make sure the pin is optimized to be visually appealing, second, make sure the description of the pin is optimized for search engines and third be certain the link attached to the pin works.
Want to be successful on Pinterest in 60 minutes or less?
Get the FREE Pinterest Success Checklist to get you
started on Pinterest here!

4. Designated Board
Be sure to have a designated board for all of your coaching business pins. This is the place where you could even assign an automated tool to post to this board with every new blog post on your coaching business website.
5. Find Group Boards
You can use PinGroupie.com to find relevant group boards and request to join them. There are many groups on Pinterest that will pertain to your industry. Search all of Pinterest to find groups boards that pertain to your industry and could help blast your coaching business this year.
6. Network Using Tailwind
Tailwind makes it easier to join "tribes" and network with like-minded Pinterest users. Having a Tailwind account to schedule pins from other users will help increase your reach as a coach on Pinterest and in turn will inspire others to hire you when they have a need for your service.
Don't have a Tailwind Account? Click here to get a free trial!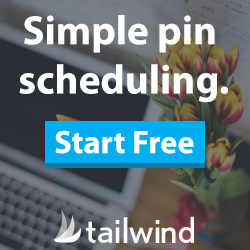 7. Follow Ideal Clients' Interests
Lastly, you will want to build up your following on Pinterest when you are a coach. The more people you have connected, the more people who will see what you have to offer. Search Pinterest for keywords that may pertain to your ideal client and follow those people, do this every day.
In conclusion, Pinterest is an easy way for coaches to increase your clientele while giving a more personal approach using visual imagery. Pinterest is a great place to use your creativity with descriptions and images to gain the ideal clients for your coaching business. It is the only platform that will work while you sleep.
Looking for more information about the power of Pinterest, check out these blog posts:
Stay Pinterest Savvy!
Subscribe to get our latest content by email.